Turkey PM boosts Cyprus peace deal hopes in Geneva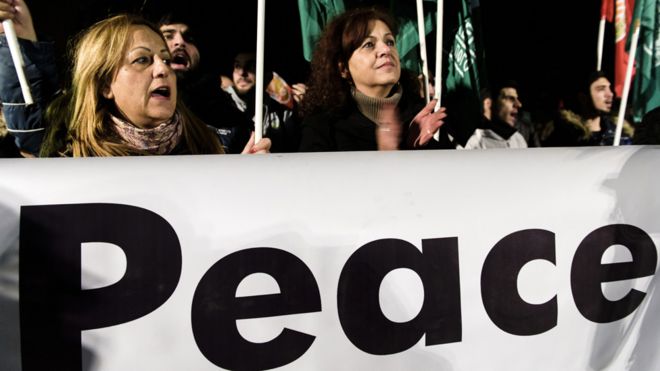 During the talks Greek- and Turkish-Cypriots rallied for peace in the Nicosia buffer zone
Turkey's prime minister is to join international diplomats at Cyprus peace talks in Geneva, amid signs of progress towards reuniting the divided island.
UN sources said they had not expected Binali Yildirim to come, and it showed how importantly these talks were being viewed, the BBC's James Landale says.
The Geneva talks also involve UK Foreign Secretary Boris Johnson and his Greek and Turkish counterparts.
The Greek- and Turkish-Cypriot communities have been split since 1974.
In that year Turkish troops invaded, following a coup by Greek Cypriots backed by the generals ruling Greece at the time.
Mr Yildirim's presence does not however indicate that a deal is imminent, our correspondent cautions.
For a deal to take effect it would have to win the support of both Cypriot communities in separate referendums.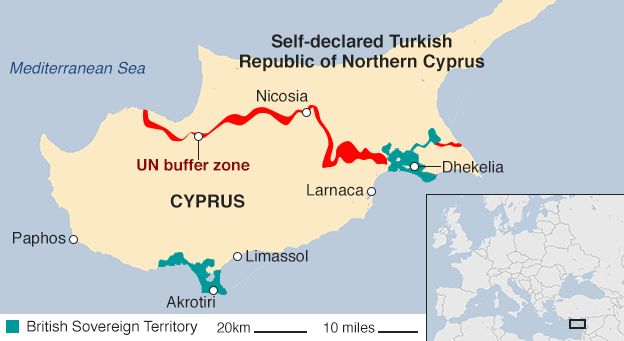 The UN, overseeing the negotiations, says it is the best chance to reunify the island after four decades of division.
The goal is for the two sides to share power in a two-state federation.
The Greek- and Turkish-Cypriot leaders - Cyprus President Nicos Anastasiades and Mustafa Akinci - on Wednesday exchanged maps proposing territorial boundaries.
It was the first time they had done so, according to the UN, and was hailed as an important advance towards a deal.
New UN Secretary General Antonio Guterres is attending the talks in Geneva, his first foreign trip in the role.