Indonesia suspends military co-operation with Australia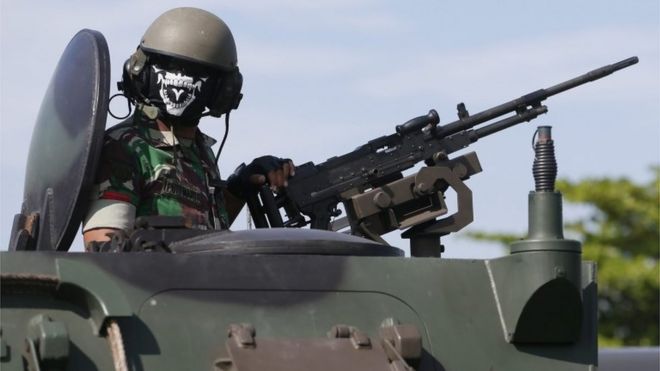 An Indonesian special forces unit reportedly trains in Perth
Indonesia has suspended all military co-operation with Australia, saying "a lot of things needed to be improved".
Army spokesman Maj Gen Wuryanto said the halt came into force in December and a broad range of activities were affected, including joint training.
Local media reported that Indonesian troops had been offended by training material found at an Australian base.
When asked about this, Maj Gen Wuryanto said there were many reasons, without giving further details.
"All forms of co-operation with the Australian military, including joint training, have been temporarily withheld. I hope it can be resolved as soon as possible," Maj Gen Wuryanto said.
Indonesian special forces group Kopassus trains with the Special Air Service in Perth, according to the Australian Broadcasting Corp.
'Offensive material'
An Indonesian newspaper, Kompas, reported that a Kopassus instructor had found "laminated material" at the training facility which he considered to be offensive to the Indonesia's founding principle of Pancasila.
Pancasila - meaning five principles - calls for national unity, social justice and democracy, and a belief in "the one and only god".
Australia and Indonesia are key allies though have had several diplomatic disputes over the years.
In 2013, Indonesia's defence ministry suspended co-operation with the Australian forces after allegations that Australian intelligence had spied on then President Susilo Bambang Yudhoyono.