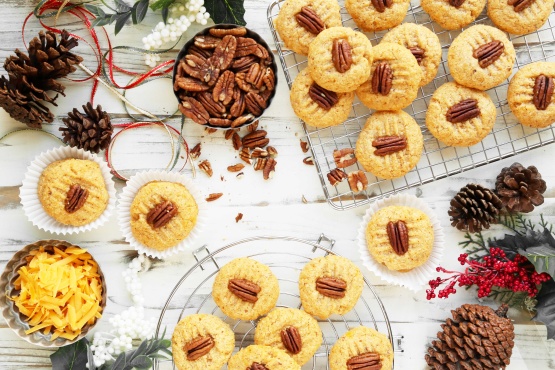 These are a nice change during the holidays when you're overloaded on sweet cookies.
yields: 48 cookies
Ingredients
2 cups sharp cheddar cheese, shredded
1⁄2 cup chopped pecans
2 cups all-purpose flour, sifted
1 cup margarine, softened
1 teaspoon salt
1 teaspoon ground chipotle chile pepper
1⁄2 teaspoon ground paprika
1 1⁄2 cups crisp rice cereal
48 pecan halves
Directions
Preheat oven to 350.
In food processor, pulse 1/2 cup cheese until it resembles coarse meal. Remove from bowl. Add pecans to work bowl and pulse until pecans resemble coarse meal.
In a large bowl, combine cheese, pecans, flour, margarine, salt, pepper and paprika, mixing well. Add cereal to mixture, stirring gently just until combined.
Shape dough into 1-inch balls. Place 2 inches apart on ungreased baking sheets. Flatten dough b*lls gently with a fork. Place pecan half on top of indentation.
Bake for 13 minutes. Remove to wire racks and cool.