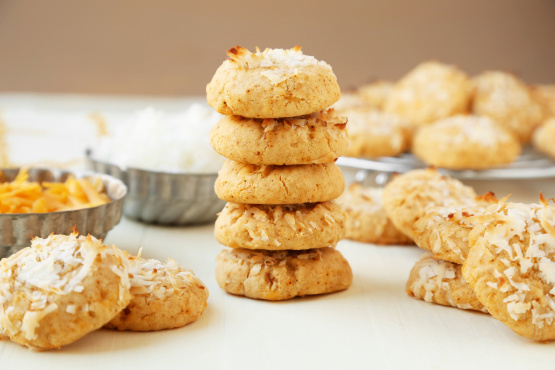 This biscuit is easy to make and delicious to eat. It is especially good plain or when you crumble it into a soup that cries out for more (or some) cheese. Mick was from Perth, Australia. He loved to bake. I'll post his divine shortbread recipe soon. This recipe is posted in his honour and with the approval of his daughter, Kate, who might get online someday.
When she does, she'll love Zaar.
Ingredients
servings: 40
yield: 40 biscuits
8 ounces butter, melted
10 ounces self-raising flour
1 teaspoon cayenne pepper
1⁄2-1 teaspoon salt
8 ounces cheddar cheese, grated (use tasty, sharp, strong)
1⁄2 cup desiccated coconut (shredded)
Directions
Preheat oven to 350 degrees Fahrenheit.
Melt butter in a large bowl. I do this in the microwave.
Add flour, cayenne and salt. Mix well. You can use a hand mixer at this stage.
Add grated cheese and mix well. You may need to use a wooden spoon to mix. Please use a nice cheese that has some bite.
Shape dough into one-inch balls.
Roll in coconut.
Flatten each ball slightly with a fork.
Place on a cookie sheet and bake until golden -- about 12-15 minutes. Keep an eye on them, especially if your oven runs hot.[b][/b]