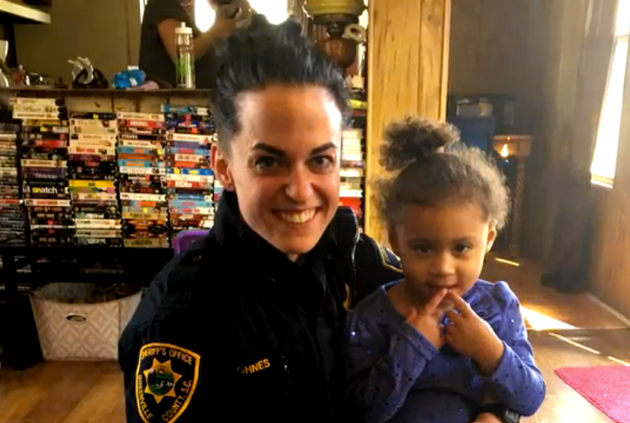 Aaliyah Ryan shouldn't have called 911 just because she couldn't put on her pants, but the Greenville County Sheriff's Department in South Carolina is willing to let it slide this time.
Aaliyah is just 2 and didn't see any other options when she had the clothes call on Wednesday.
"Dispatch actually gave us a call and they said it sounded like a baby on the phone and it was basically a 911 hang up call," Deputy Martha Lohnes told WSPA-TV.
Lohnes was sent out to investigate the situation just to be safe.
When she got there, an elderly man answered the door, completely bewildered and unaware of any call to the police.
"I show up, and her grandfather opens the door, and she just comes up around the side of him and is like, 'Hey!'' Lohnes told GreenvilleOnline.com. "Then I look down, and she's only got one pant leg on."
Aaliyah had somehow gotten one of her pant legs flipped over and inside out.
"There was like no way she was going to figure it out," Lohnes told the website.
Lohnes, who has two younger sisters, knew what to do.
"So I sit down on the stairs and help her put pants on," she told Fox Carolina. "And then she proceeds to ask me to pick her up and hug her…and that would be the best part of my shift today."
Meanwhile, Grandpa had the unenviable task of explaining the situation to Aaliyah's mother, Pebbles, who was at work when the call was made.
"My dad gave me a call and was just like, 'Your daughter just called the police on me!'" Ryan told ABC News. "Then he said Aaliyah wouldn't let the cop leave and was too busy hugging her."
Ryan said she had taught Aaliyah to call 911 for emergencies. Apparently, she didn't differentiate between real emergencies and fashion emergencies.
"I'm just grateful for the deputy and her kind, wonderful heart, though," she told ABC News.. "She really took the time out of her day to make sure everything was OK even though she knew it was just a little baby calling. That means a lot to me."