Prince William has invited a film crew to follow his work as an air ambulance pilot, giving an insight into the banter and more traumatic times he shares with colleagues, in an effort to draw attention to their life-saving work.
The Duke of Cambridge has previously been reluctant to allow cameras to follow him at the East Anglian Air Ambulance, but this project forms part of an awareness week of national events celebrating the work carried out by pilots and medics.
Pilot William Wales, as he is known at work, said: "It's rewarding when I come here to do this job and I really look forward to coming here every day.
"If it's 5.30 or going to bed at 2am in the morning, the shift work is still exciting and it's challenging for its variety and the fact that I love working in a team."
Referring to his royal duties, he added: "That's something that my other job doesn't necessarily do.
"You're more out there on your own a little bit, but I very much enjoy working with the likes of James and the team, it's good fun."
He is quickly teased by fellow pilot James Pusey, who replies: "That's the nicest thing you've ever said to me," to which a laughing William retorts: "You're only going to get that once."
Pilot Pusey also reveals that Prince William has been handing out parenting tips while on shift.
Kensington Palace said Prince William saw this as a unique opportunity to document and highlight the work of the air ambulance community.
Inviting cameras into the cockpit of the helicopter, he said: "That's what this aircraft brings, it's bringing a critical care paramedic and a critical care doctor to the scene much faster than you can possibly do by road or by any other means.
"And it's effectively bringing the hospital to the casualty by the road within that golden hour".
Nationally, 70 people are treated by air ambulance crews every day.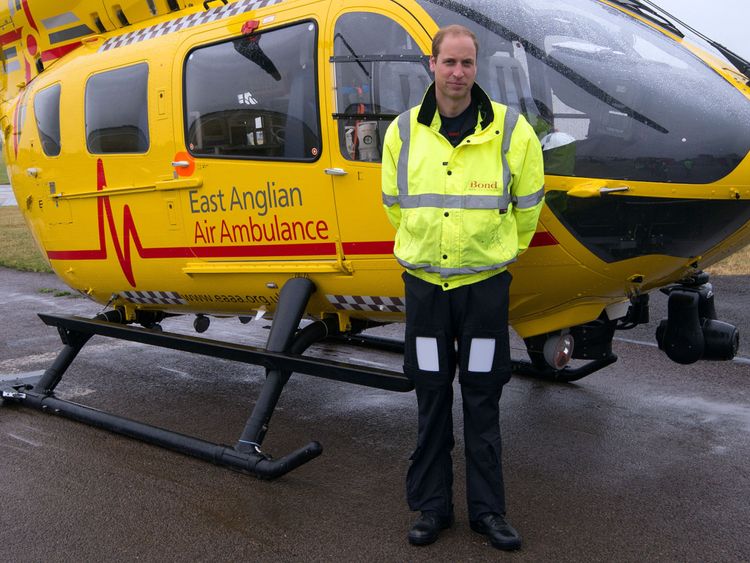 In the last year the East Anglian Air Ambulance attended 2,085 incidents with cases including patients injured in fires, horse riding accidents, industrial accidents and road traffic collisions.
Inside the Trauma Team where Prince William is a Pilot was put together by BBC Future and uses a series of interviews, films, and photos.
Talking about how the team helps each other in more harrowing times, Prince William said: "I think my most challenging one was to do with burns.
"There's one job in particular that was really quite nasty and I don't know how the medical crew dealt with it either, because they came to the rescue and did everything they could but sadly the casualty was beyond help.
"Yes, there are some very sad dark moments, and you know we talk about it a lot and that's the best way of dealing with some of the situations - you talk and you try not to take it away with you but sometimes - particularly for us who don't necessarily day in day out see all this stuff - it can be quite difficult."