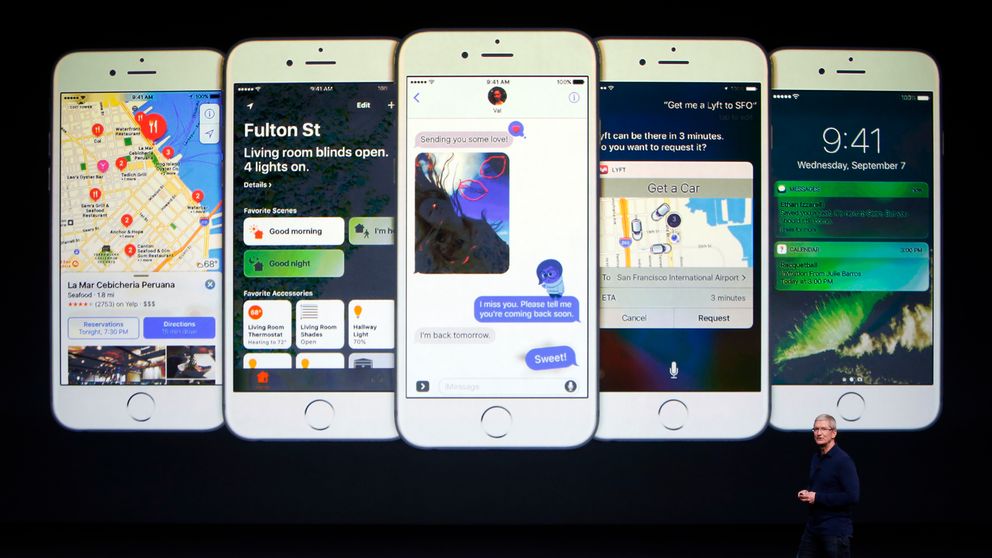 12:45
Tim Cook raves about iPhone 7 and new Apple Watch.
12:43
But Cheshire adds: "The camera looks extremely decent and shows that Apple is attuned to the Instagram world (indeed, someone from Instagram – owned by Facebook, a rival tech co – was on stage at the Apple event).
And in fact, it's in these details that the innovation hides, in plain sight."
12:41
Sky's Technology Correspondent Tom Cheshire is less than impressed with the iPhone 7. His verdict:
"The irritating removal of the headphone jack aside, there's seemingly not much new. For gadget fans and business analysts, that's worrying. Fanboys want shiny new features. Analysts worry that too much of Apple's business is based on the iPhone, and that there's not innovation there, or with other new products, to sustain the company's unbelievable success over the last 10.years."
12:06
Sia wows the audience.
11:57
The presentation ends with a performance by the Australian singer-songwriter Sia.
11:49
Altogether, the iPhone 7 is an "incredible" device, with new features that make it the "most advanced" iPhone to date. In the US it will cost $649, with the Plus 7 selling for $749.
11:43
Another plus - the iPhone 7 batteries will have more life.
11:41
The graphics performance will be simply "staggering" and enable users to download games that were not possible before including Broken Kingdom.
11:38
Last, but by no means least, the iPhone 7 will have a new chip which will make it run faster than any of its predecessors.
11:36
The presentation moves to Apple Pay, which will be rolled out in Japan in October.
11:33
A video explaining how the airpods, based on the W1 chip, will work and benefit the user is enthusiastically received.
11:29
As anticipated, the iPhone 7 will have wireless headphones - called Apple Airpods.
11:24
The audio has been upgraded with stereo speakers.
11:21
The Retina HD display is also the best on any iPhone.
11:17
The camera on the iPhone 7 Plus is "even better". Among its features are the ability to produce "shallow depth of field".
11:14
11:14
11:13
It is also capable of complex editing and will "take the best 'selfies' ever".
11:10
Among other things it can take multiple photos and fuse them into one for the best possible results.
11:08
Change number four - a greatly improved camera that will take much better photos.
11:06
The iPhone 7 will also be water and dust resistant.
11:04
The home button has also been redesigned to make it more responsive.
11:04
It will also be available in gold and silver.
11:03
The iPhone 7 has 10 major new features including a jet black finish.
11:00
Finally, iPhone 7 is revealed - the best iPhone yet, says Mr Cook.
07 Sep
10:59
There have been a number of improvements to IOS 10 including new messaging features.
07 Sep
According to a post tweeted by Apple and then deleted, the Apple iPhone 7 will be available from 16 September
Reply on TwitterRetweetLike
10:55
Next up - iPhone, says Tim Cook. It has set the industry standard and over one billion have been sold worldwide.
10:53
The watch will focus on "you and your life" and will be the "perfect running partner", the audience is told. The cost - $369.
10:51
Mr Cook prepares to announce the new watch.
10:48
Tim Cook also announces Apple Watch Nike Plus - a watch specifically designed for runners.
10:45
S2 will also have GPS which will be of huge benefit to hikers, showing them where they are and if they are in danger of getting lost.
10:40
Series 2 will tell users how far they have swum and how many calories they have used. It will also have a faster processor.
10:39
There will also be improvements to the Apple Watch that will allow users to wear it while swimming.
10:33
A developer explains how it will work.
10:32
Pokemon Go is also coming to the watch later this month. (Cheers and applause).
10:30
The watch also has a number of bespoke apps including Ping to help players improve their swing.
10:28
Messaging with the watch is easier than ever and if they want owners can even use Scribble.
10:26
It's now the turn of Apple Watch, used by millions of people all over the world and the best selling smart watch.
10:22
He has now moved on to iWork and the introduction of "real time collaboration".
10:19
Tim is now talking about the hundreds of schools supported by Apple.
10:09
He is now talking about the Apple Store.
10:08
Mr Cook hails the Apple Music Festival in London later this month which will feature Elton John among other leading artists.
10:06
He begins with a "few updates", the first being Apple Music.
10:05
Tim Cook appears on stage to tumultous applause.